This fine cello bears its original label dated 1790, inscribed with Forster's signature and the number 1. Forster's own account book list the names of several customers for cellos in that year, but although it does not specify which was designated number 1, the first name on the list is that of the Earl of Uxbridge, Henry Paget. The celebrated cellist James Cervetto ordered two in that year, and at least six more were completed, along with six violins and five violas. A busy year for any craftsman, but Forster was also occupied with publishing the works of Joseph Haydn, with whom he held a lengthy correspondence, and had gained Royal Warrants from the Prince of Wales and the Duke of Cumberland. From his birth in Brampton, Cumbria in 1739, he had come a long way.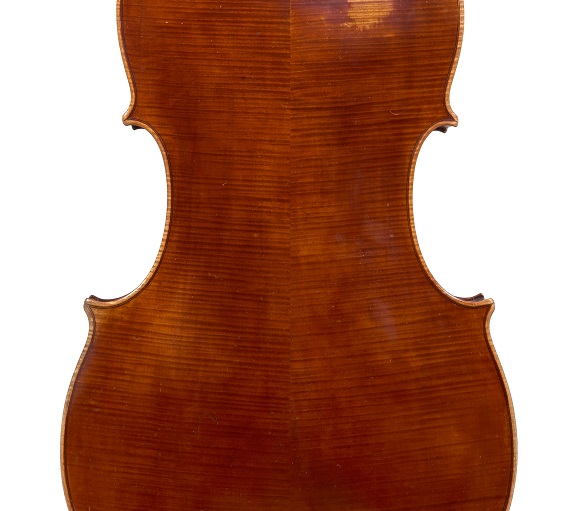 The sheer craftsmanship of the instrument is made even more impressive by the prolific nature of Forster's work. Although the characteristic Stainer model appears rather mannered to modern eyes, the execution is faultless, with many individual and idiosyncratic details that indicate great care and attention both in design and execution. The head is a good example, with the emphatically rounded upper edges of the pegbox and shoulders, and the extended final turn of the eye of the scroll superbly cut and finished. The interior work is also immaculately done, again with a very individual shaping of the blocks and linings. The varnish is very typical in its dark red brown colouring, rich texture and even coating. In 1772 Forster learned how to fuse amber, and an observable improvement in quality is said to date from that period. Henry Hill, the brother of William Ebsworth Hill, remarked that Forster's amber coloured cellos are 'equalled by few and surpassed by none.'
Forster was clearly working for a very distinguished and demanding clientele, although as is well understood, he produced work commercially in three different standards, from plain unpurfled instruments with spirit varnish, graduating to the best quality. This 1790 cello was of the best quality, but was just one of the virtual flood of cellos that English makers provided in the late eighteenth and early nineteenth centuries to fill what was obviously a growing need for the instrument, made fashionable by the likes of George Frederick, the Prince of Wales, a keen player, and professional cellists like Cervetto, James Crosdill and Robert Lindley, all celebrated performers in their time. Forster's accounts also lists numbers of Churchmen, who in that period had a generally large disposable income, and Forster's cellos certainly provided the core of many church bands up and down the country.
The craftsmen trained by Forster, John Carter, William Powell, and his son William Forster III ('Forster jr.') continued to make fine cellos in this distinctly English tradition, which has become increasingly valued and appreciated in modern times. The patterns used have always been of the modern concert size, with around 740mm back length, and have not been modified in the way of so many prized Italian instruments. They have matured and risen to great appreciation over the last two centuries.