Eugène Ysaÿe's Sartory violin bow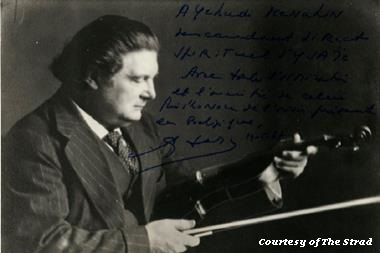 Eugène Sartory was born in Mirecourt in 1871 and studied in Paris under Charles Peccatte and then with Joseph Alfred Lamy. He set up his own business in 1889 at the age of 18, and his early style was strongly influenced by Lamy. Over the years 1900 to 1920 his bows gradually became more robust, and the period 1910-20 is considered the highpoint of his career. After the First World War Sartory employed Louis Morizot, Jules Fétique and Louis Gillet, but he maintained strict quality control and the consistency of his workshop's output is impressive. This attention to detail, his prolific output and his ability to produce strong yet elegant bows have cemented his reputation as the most sought after bow maker of the 20th century.
This fine gold and ebony-mounted bow was made towards the end of the 1920s. Its broad head and octagonal stick give it a feeling of solid muscularity, and the stick is firm yet responsive. The elegant frog and beautiful adjuster, with gold rings and pearl facets, are typical of Sartory's more decorative bows of this period.
The legendary Belgian virtuoso Eugène Ysaÿe had a large collection of bows, including numerous examples by Sartory. These were made primarily in the late 1920s, and include two other bows, one for violin and one for viola, which are engraved Spécialement fait pour Mʳ Ysaÿe. Perhaps these three bows (along with a cello bow?) were made as a group for Ysaÿe, in or around 1928, which is the date engraved on the other violin bow. In the following year, Ysaÿe was presented with another Sartory bow in gold and tortoiseshell. This was a Christmas present from Elisabeth, Queen of the Belgians, who was Ysaÿe's pupil.
We now have a complete history of the bow since it was sold or possibly presented to Ysaÿe by Sartory circa 1928. After Ysaÿe's death in 1931 the bow remained in his family, and was subsequently acquired from them by Henri Pensis Jr., the conductor of the RTL Symphony Orchestra of Luxembourg (which his father had founded in 1933). In 1989 Louis Francini, an American violinist born in Chicago and a member of the RTL orchestra, bought the bow from Pensis. Seven years later, after Francini's death, his widow sold the bow to another violinist in the orchestra, and it has remained in the possession of his family ever since.
The bow was exhibited at the Queen Elisabeth Competition in Brussels in 2015 and 2019 and is featured in the exhibition catalogues Flemish Violins and Prestigious Bows and Souvenir of Eugène Ysaÿe.