Musical mystique: Why centuries-old Stradivari violins smash auction records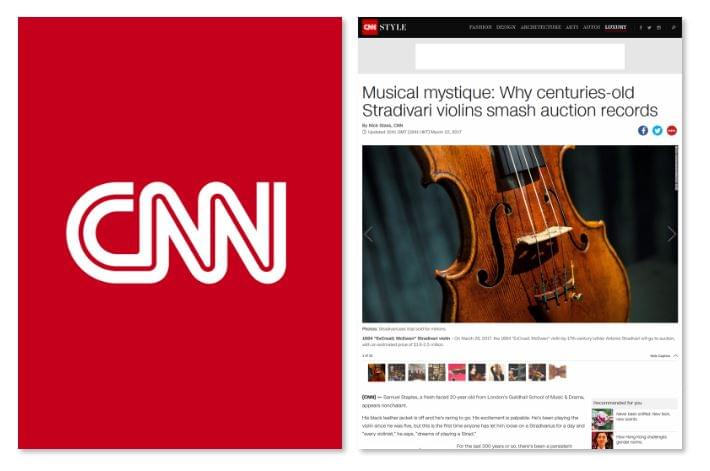 ARTICLE EXTRACT
1684 "ExCroall; McEwen" Stradivari violin – On March 28, 2017, the 1684 "ExCroall; McEwen" violin by 17th-century luthier Antonio Stradivari will go to auction, with an estimated price of $1.6-2.5 million.
Samuel Staples, a fresh-faced 20-year-old from London's Guildhall School of Music & Drama, appears nonchalant.
His black leather jacket is off and he's raring to go. His excitement is palpable. He's been playing the violin since he was five, but this is the first time anyone has let him loose on a Stradivarius for a day and "every violinist," he says, "dreams of playing a Strad."
For the last 300 years or so, there's been a persistent mystique about the great Italian luthier Antonio Stradivari and his violins. In a long life, he produced about 1,100 stringed instruments — violins, violas, guitars and cellos. About 550 violins (out of an estimated 960) are still with us today.
These days, the finest Strads can sell privately for more than $15 million, usually to banks, charities and music patrons, and are loaned out to leading violinists.
Staples warms the violin up with a few classics — a bit of Bach, a bit of Tchaikovsky, Sibelius and Mendelssohn. A pinch mark the size and color of a peach is visible under his chin, where the violin rest has wedged into his skin. He's oblivious to it.
He speaks like a driver who's just been promoted to Formula One. The Strad is "very easy to handle, very immediate like a racing car. You can make more sound with less pressure."
On March 28, the instrument Staples is playing — the 1684 "Ex-Croall; McEwen" violin, named after former owners — will be up for auction at Sotheby's in London. And with a sale estimate of $1.5-2.5 million, it's a relative bargain.
The ultimate prize
Tim Ingles and I are chatting in the reception of his London office near Oxford Circus when he invites me to hold the "Ex-Croall; McEwen."
Ingles, a co-founder and of the specialist fine instrument dealers Ingles & Hayday, will be the auctioneer when the violin is put up for sale.
"No, you don't need gloves," he tells me, but "don't drop it!"
This is an entirely new experience, cradling something so valuable. The violin is breathtakingly light — less than half a kilo, roughly the weight of a can of beans or a baseball — and, of course, it's exquisitely crafted.
Why, I ask, are they so prized?
"It's largely a question of design," Ingles says. "Stradivari got it right, the balance between hard and soft (wood), so the box can vibrate. He never stands still. He never makes the same violin twice, always trying to improve the sound and look."
Many leading violinists like Joshua Bell and Nicola Benedetti play Strads, and usually an intense bond develops between player and instrument.
The German violinist Frank Peter Zimmermann said his Strad "feels like part of my body" in a 2012 interview with The Strad magazine.
South Korean-born violinist Min Kym has referred to hers as her soulmate. She was completely traumatized when it was stolen at London's Euston Station in 2011. The Strad was eventually recovered two years later in the English Midlands. (The opportunist thieves had had no idea of the violin's value and had initially tried to sell it for $125.)
The Strad trade is relatively small but very competitive. At any one time, the key dealers in London, New York, Paris and Rome will have between 15 to 20 Strads for sale between them. Ingles says most good Strads will double in value every 10 years.
For the last 34 years, Florian Leonhard has restored and sold Strads from a workshop in Hampstead in North London. He currently has four for sale, including one that he's very excited about from Stradivari's much coveted Golden period (1700-25).
Oxford's Ashmolean Museum has one of these, too: "The Messiah" from 1716, perhaps the most famous and immaculate of all Strads.
Leonhard has apparently discovered its almost identical twin from 1717. An expert has confirmed that the spruce used in both violins came from the same tree. Leonhard has named the Strad "The New Messiah."
It's his belief that Strads are "like a sculpture and compared with Rodin and Michelangelo, they are still undervalued."
He suggests that "The New Messiah" could be worth up to $20 million, which would be a new world record for a Strad violin.
A tough sell?
But the violin market can be hard to predict. In 2014, Ingles & Day offered a Strad viola, "The Macdonald," for a whopping $45 million. The market evidently thought that this was ridiculous and there were no bids even close to the asking price.
Ingles calls it "a touchy, feeling business." The auction market is "very open, very global. Musicians need time to assess an instrument."
But having set a date, an auction "accelerates the whole process."
He's been showing the "Ex-Croall;McEwen" to potential buyers since December. Having priced it modestly, Ingles is very much hoping to find it a good new home.
Going to auction with it runs an inherent risk: if it doesn't sell, it'll be that much harder to sell it later.
In 1908, the most eminent of London violin dealers, Arthur F. Hill wrote, "A Stradivarius cannot be regarded as other than wise purchase."
We shall see if that applies in this instance.