Strad Magazine June Auction Report
The collection of London-based dealer Norman Rosenberg provided a boost in interest and activity at London's spring sales, as Kevin MacDonald reports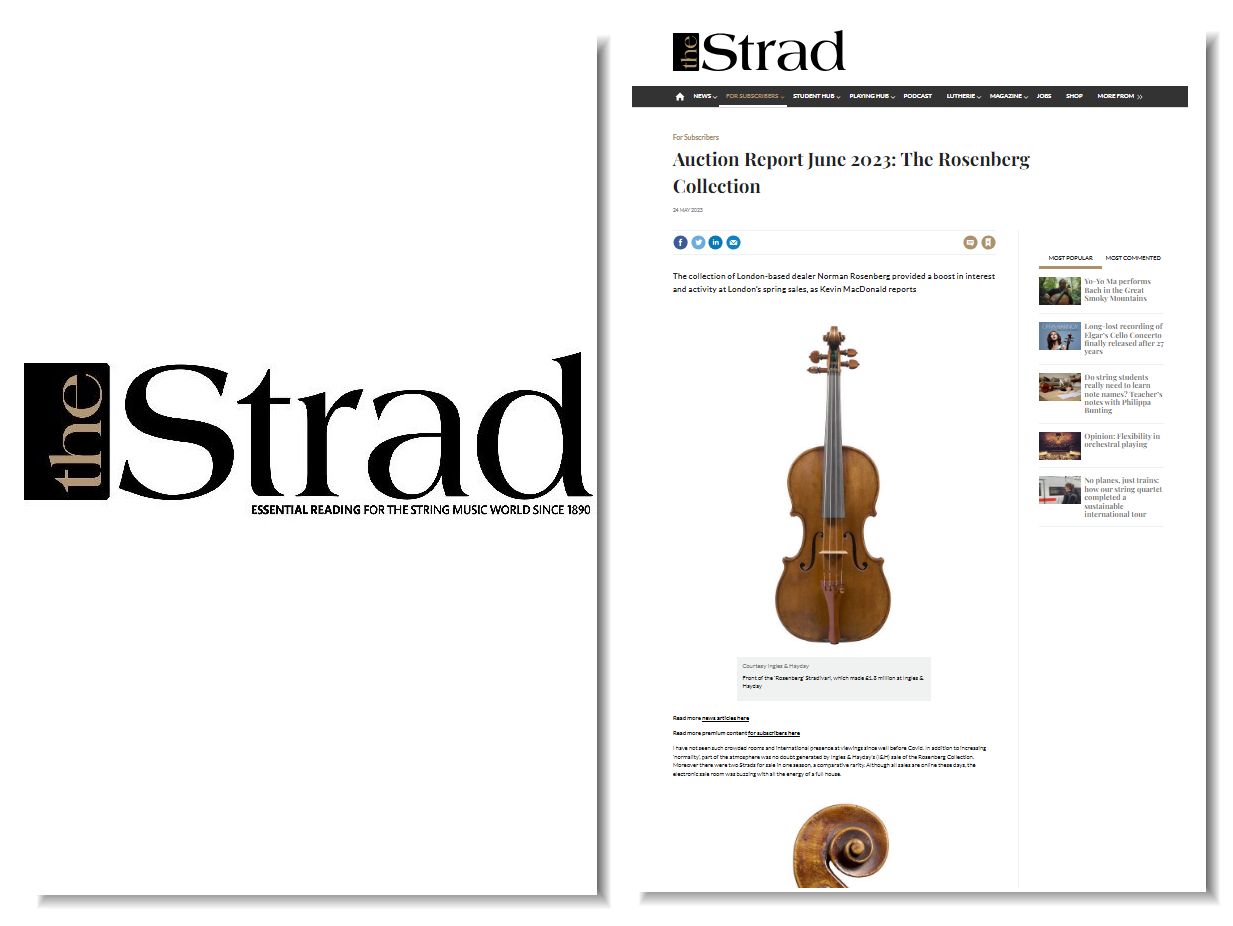 ARTICLE EXTRACT
I have not seen such crowded rooms and international presence at viewings since well before Covid. In addition to increasing 'normality', part of the atmosphere was no doubt generated by Ingles & Hayday's (I&H) sale of the Rosenberg Collection. Moreover there were two Strads for sale in one season, a comparative rarity. Although all sales are online these days, the electronic sale room was buzzing with all the energy of a full house.
One of the season's most impressive statistics is that 77 of the 96 lots of the first tranche of the Rosenberg collection at I&H went over top estimate, and in many cases doubled this number. A long-hidden connoisseur's collection, fresh to market, brings out aggressive bidding. Overall, the I&H sale made £6.2 million, something of a recent record, also having the most lots on the block this spring (245).
The two big lots this season were both Stradivari violins. The 'Rosenberg' at I&H is a bit of a puzzle. It is estimated that its back dates to c.1685, but it has a later front (circa 1692 on the basis of dendrochronology) with purfling that does not closely match the back, and an earlier scroll (c.1670). The hypothesis is that its front was replaced by the Stradivari workshop some seven to ten years after it was made. The scroll appears to be a later marriage. Regardless of the mystery, and lack of deeper time provenance, the lot sold well at £1.8 million. Tim Ingles commented: 'It is a great-sounding violin, so a wonderful opportunity to acquire a top-class concert instrument without paying a full Stradivari price.'
I&H offered a remarkable c.1725–30 Montagnana with original neck (blocked) and traces of the original three nails showing at its reduced heel. Another lot in the Rosenberg collection, it sold for £288,000. Other key lots from the collection included a c.1680 Andrea Guarneri with Hill certificate (£204,000) and a 'circle of' Lorenzo Storioni with a 1943 certificate from J&A Beare, and a 1796 Storioni label (£264,000). In its regular catalogue, I&H sold a fine c.1760–70 Nicolò Gagliano over the top estimate for £180,000.
It must be remembered that Rosenberg also collected bows, many with exceptional playing qualities, resulting in very competitive bidding. Some of these violin bows at I&H went for multiples over top estimate including: a c.1910 W.E. Hill & Sons (£9,600), a c.1840 Joseph Gaudé (£26,400), and a c.1845 Dominique Peccatte (£120,000).