The Bill Watson Collection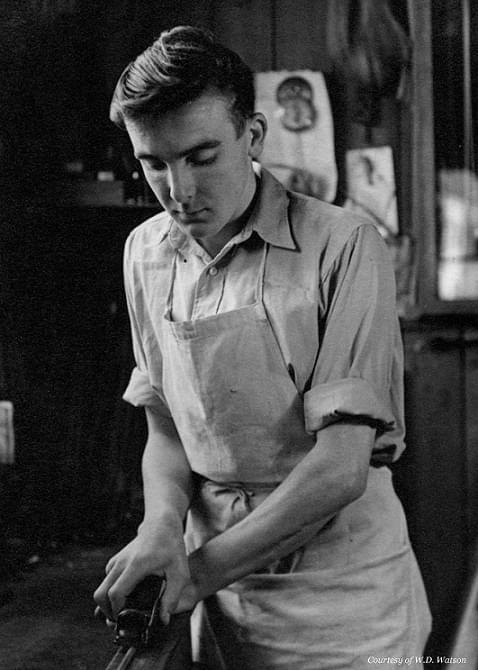 Bill Watson (b 1930; d 2018)
Bill Watson, one of the leading British bow makers of the 20th century, died in December 2018 at the age of 88. He was for many the last connection with the 'glory days' of the Hill bow making shop, where he worked with Bill Retford and Arthur Bultitude. He joined Hills in 1945 at the age of 14 and worked for over seventy years as a bow maker.
Bill grew up in Hanwell, where his father worked in the printing trade. The Second World War disrupted his education and he used to spend hours in a shelter listening to the bombers overhead. At 14 his father sent him to be a plumber but he only survived one morning as a plumber's mate, deciding that standing up to his knees in water in a flooded basement was not for him. Bill had joined the local Boys Brigade, a version of the scout movement, and it was there that he met Arthur Bultitude, who was a Brigade leader. Bultitude suggested that Bill should come to work at Hills' violin workshops in Hanwell.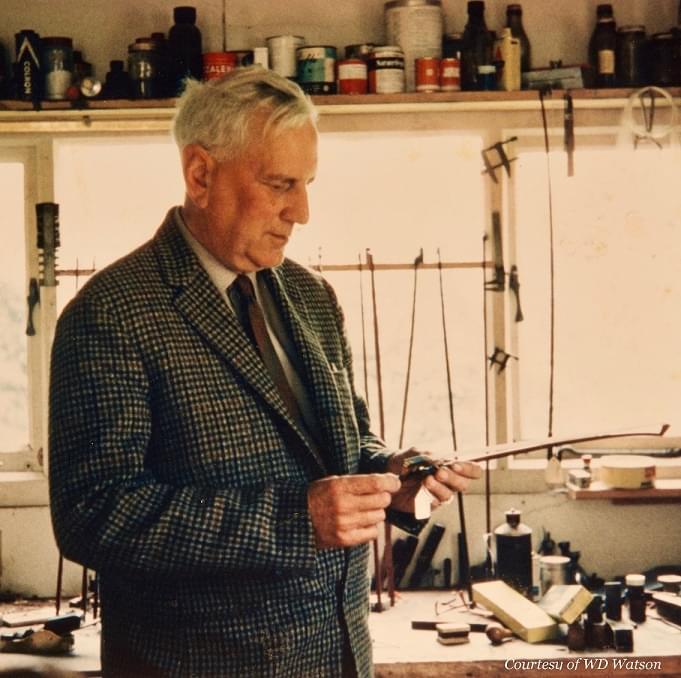 In January 1945 Bill started in the case making shop on a six-month trial, sweeping floors and setting fires, as well as being taught how to sharpen tools and make simple boxes. Frank Pierce, who ran the case making shop, did not want to keep him on at the end of the six months, on the basis that he was left-handed. Arthur Bultitude disagreed and offered Bill a job in the bow making shop, paying him £1 a week. Bill worked for six years as Bill Retford's apprentice, a role which included making tea, sweeping the floors and cleaning the lavatories. For over a decade Bill worked closely with Retford, who he described as 'a very kind man and a wonderful teacher', and at the same time he studied the work of other Hill makers such as Leeson and Bishop, as well as the great French makers.
For eleven years after completing his apprenticeship Bill worked steadily in the firm and mastered all aspects of bow making. Bultitude set him the tricky task of cutting the gold fleur-de-lys to be inlaid in the best bow frogs. With characteristic persistence he progressed from taking an hour and a half (breaking many blades and files on the way) to completing the job in fifteen minutes. When Bultitude left Hills in 1961 Bill became the senior bow maker, responsible for the finest bows and for supervising colleagues and apprentices. At this time his weekly wage was £13, and after a dispute over pay with Desmond Hill, Bill resigned. With a wife and two daughters to support, he decided that his best course was to set up independently. Initially he set up a workshop at home in Hanwell, and then moved to Denham in 1963. He subsequently moved to Princes Risborough, Falmouth, and finally to Dorset, and produced many fine bows over the next fifty years, most bearing the brand W.D. Watson. London. His work in gold and tortoiseshell was always of the highest quality, and his trademark 'coronet' and 'clover' bows are highly sought after.

W.E. Hill & Sons bow by William Johnston

W.E. Hill & Sons bow by Sidney Yeoman

W.E. Hill & Sons bow by Charles Leggett

W.E. Hill & Sons bow by W.C. Retford
After leaving Hills, Bill took no apprentices of his own and did not pass on his skills directly. But he was very supportive of the next generation of British bow makers, and he lectured at the British Violin Making Association (BVMA), the Entente Internationale des Luthiers et Archetiers (EILA) and the Violin Society of America (VSA). At conferences he was a good storyteller, with a wicked sense of humour. He recounted a customer bringing in a bow for rehair. Bill explained in detail how ugly the head was, and then found his own Hill number stamped under the hair.
Bill made a significant contribution to John Milnes and Derek Wilson's book 'The Hill Bow Makers, 1880-1962', which was published in 2016, and agreed to make a film demonstrating all he had learned at Hills. As one of the last living links with Retford and the origins of the Hill bow he contributed many new details, recalling, for example, that Retford spent most of his later years at Hills adjusting other maker's bows rather than making his own. Retford's own bows are relatively rare and the overall quality of the Hill bow was consistently high because Retford had spent much of his time at the firm checking and improving the work of the others.
Our thanks to John Milnes and Derek Wilson for their assistance with this article.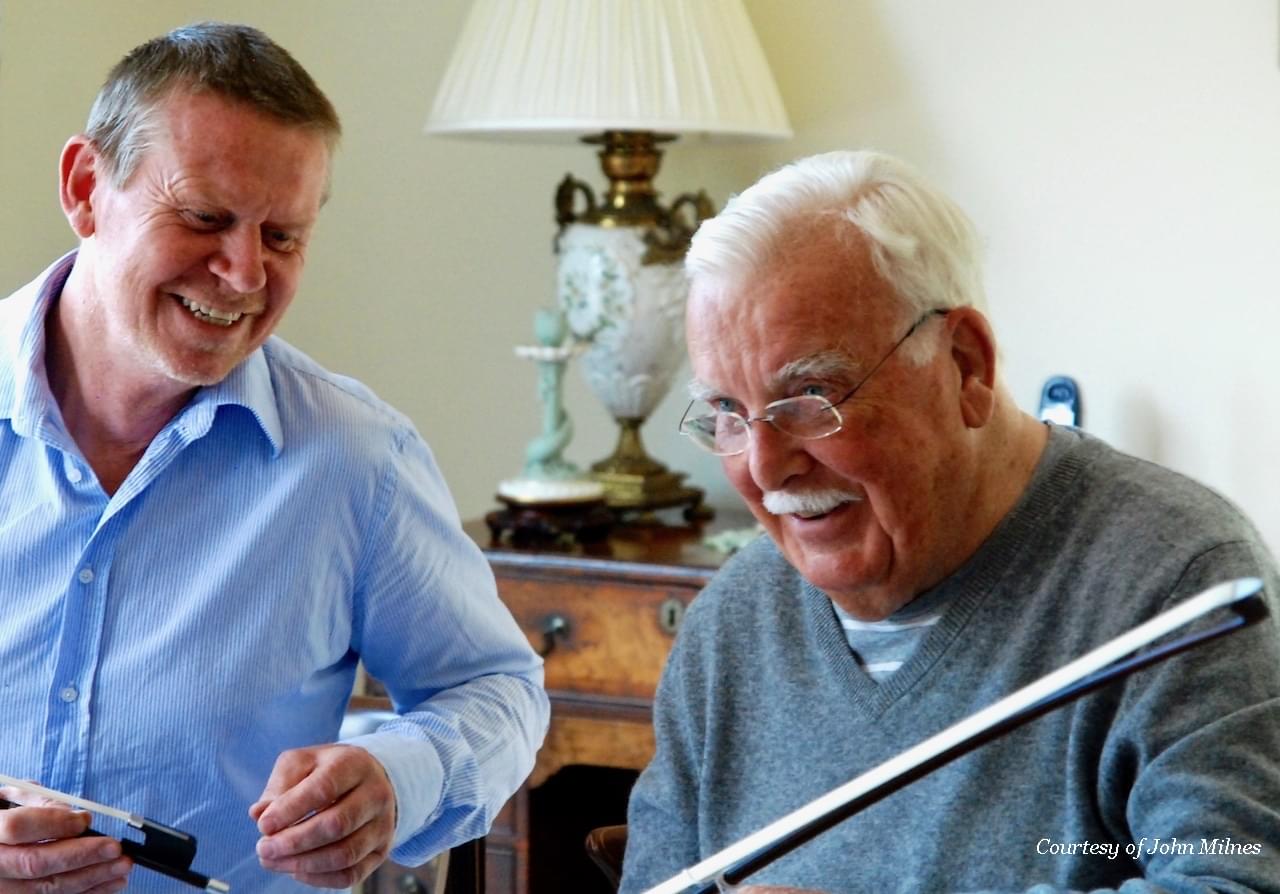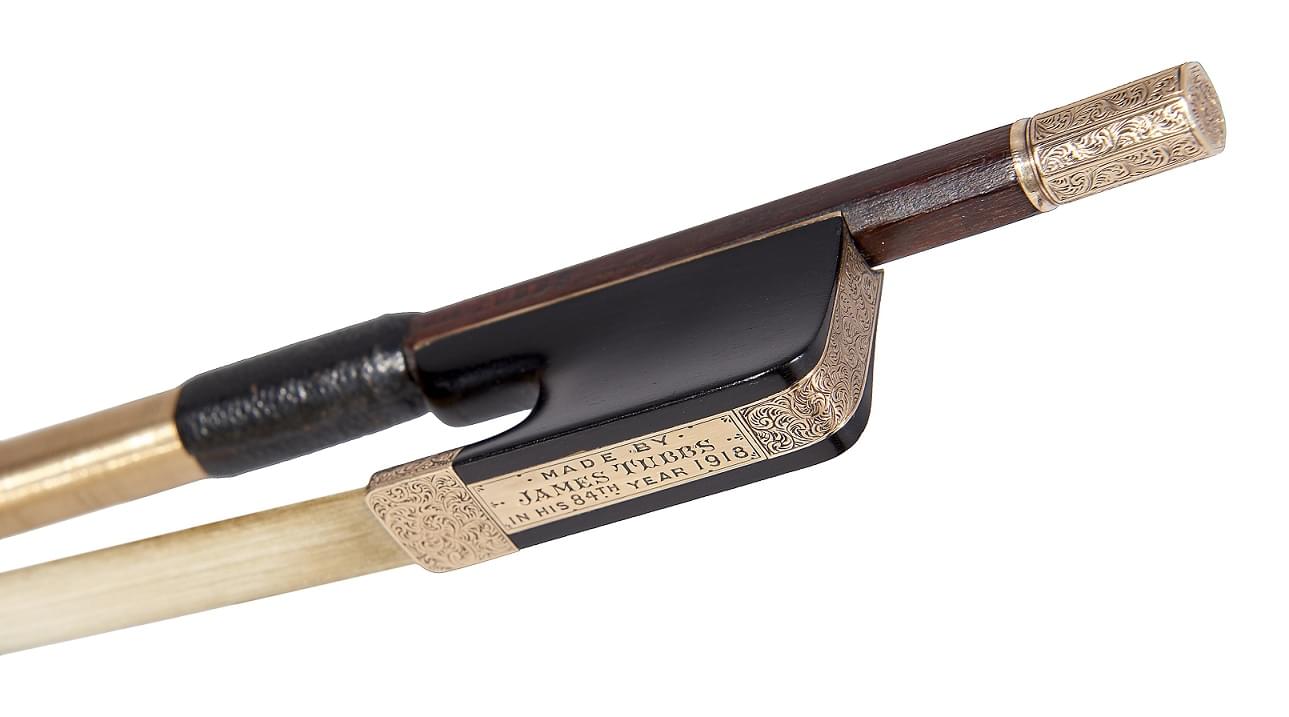 The Bill Watson collection is one of the finest collections of English bows ever to come to auction. It includes some superlative examples of the work of W.E. Hill & Sons, and of other celebrated English bow makers such as James Tubbs and John Dodd.
The highlight is a chased gold-mounted 'Birthday' bow by James Tubbs, made in 1918, when Tubbs was 83 years old. But the Tubbs is one of the younger bows in the collection, which also features five examples of the work of the Dodd family, and a number of pre-WWI Hill bows. The pre-eminent makers of the 'golden period' of the Hill shop were Bill Retford, Sidney Yeoman, William Johnstone, Albert Leeson and Charles Leggett, and each of these makers is represented with near-mint examples. The Retford bow, made circa 1910 and mounted in silver and tortoiseshell, was Bill Watson's favourite Hill bow, and has an extraordinary elegance. The Johnstone bow, made circa 1900, has a rare early stamp of W.E. Hill & Sons and a head which recalls the work of the originator of the Hill tradition, Samuel Allen. There are also numerous violin, viola and cello bows by Watson himself, of course, all dating from the time after he left Hills.
The collection also includes Bill's collection of books about bow and violin making, and a selection of materials from his workshop – ebony, silver, tortoiseshell, ivory, whalebone and brass.  From the raw materials of the trade to the finished article, this collection provides an insight into the world of British bow making at its very best.
Tim Ingles remembers Bill Watson
I first met Bill in the mid-1990s. I was in my late 20s and keen to learn about bows. Bill was about 65 and had been a bow maker for half a century.
From our first meeting Bill was keen to talk about Hill bows and to share his knowledge – he taught me about the maker's marks (who could forget 'Johnny over the road'?), the introduction of date stamping the bows, the inverted W on the back of the head on a bow which had been 'cut wrong' and subsequently pinned, the changes in handle design in the 1920s, and how to spot a fleur-de-lys bow which he had made! He loved talking about the other men in the shop, his respect for 'Mr. Retford' and 'Mr. Bultitude', and telling anecdotes from the olden days, like the unfortunate circumstances of Albert Leeson's death, run over by a bus near the Hanwell shop.
Bill was what could only be described as 'salt of the earth' – the boy from humble beginnings who had made it good, had made a good living through honest hard work and years of developing his skills. He was direct and funny, with a wicked (and earthy) sense of humour. He didn't suffer fools gladly, but if he saw genuine interest in someone, he was open and generous with his knowledge. Many, many years later I visited his workshop in Dorset with two of my children, and he spent ages with them in his workshop, showing them every detail of his materials, tools and machines. He lived and breathed the Hill bow tradition, and he was proud to have been a part of it.