Violin made from Winston Churchill's cigar box to be auctioned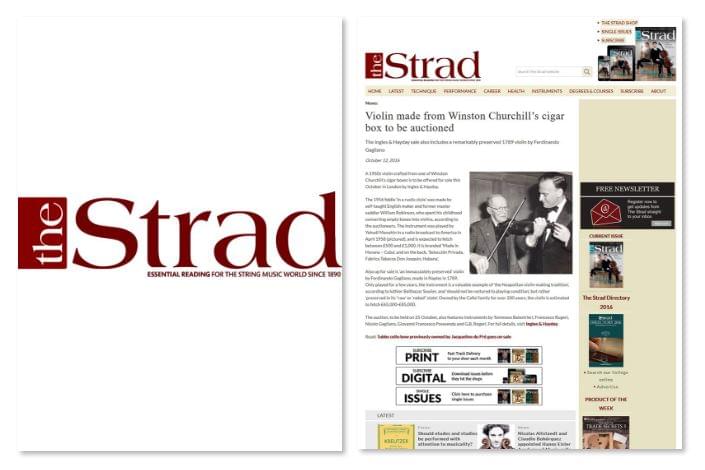 ARTICLE EXTRACT
A 1950s violin crafted from one of Winston Churchill's cigar boxes is to be offered for sale this October in London by Ingles & Hayday.
The 1956 fiddle 'in a rustic style' was made by self-taught English maker and former master saddler William Robinson, who spent his childhood converting empty boxes into violins, according to the auctioneers. The instrument was played by Yehudi Menuhin in a radio broadcast to America in April 1958 (pictured), and is expected to fetch between £500 and £1,000. It is branded 'Made in Havana – Cuba', and on the back, 'Selección Privada, Fabrica Tabacos Don Joaquin, Habana'.
Also up for sale is 'an immaculately preserved' violin by Ferdinando Gagliano, made in Naples in 1789. Only played for a few years, the instrument is a valuable example of 'the Neapolitan violin-making tradition', according to luthier Balthazar Soulier, and 'should not be restored to playing condition', but rather 'preserved in its "raw' or 'naked" state'. Owned by the Cafisi family for over 200 years, the violin is estimated to fetch £65,000-£85,000.
The auction, to be held on 25 October, also features instruments by Tommaso Balestrieri, Francesco Rugeri, Nicolo Gagliano, Giovanni Francesco Pressenda and G.B. Rogeri. For full details, visit Ingles & Hayday.