Violin made from Winston Churchill's cigar box to be auctioned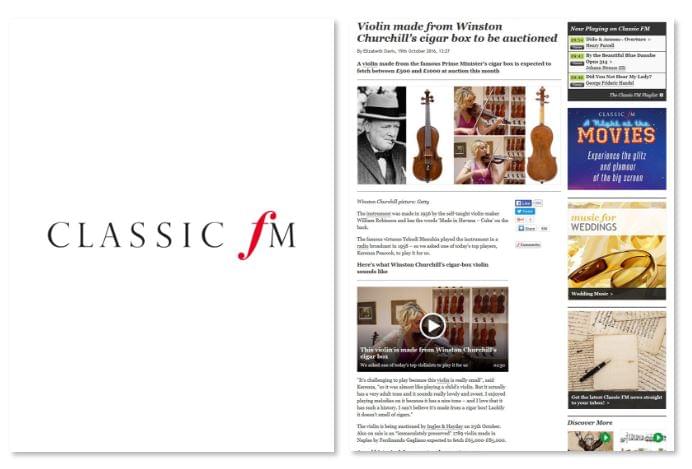 ARTICLE EXTRACT
A violin made from the famous Prime Minister's cigar box is expected to fetch between £500 and £1000 at auction this month
The instrument was made in 1956 by the self-taught violin-maker William Robinson and has the words 'Made in Havana – Cuba' on the back.
The famous virtuoso Yehudi Menuhin played the instrument in a radio broadcast in 1958 – so we asked one of today's top players, Kerenza Peacock, to play it for us.
Here's what Winston Churchill's cigar-box violin sounds like
"It's challenging to play because this violin is really small", said Kerenza, "so it was almost like playing a child's violin. But it actually has a very adult tone and it sounds really lovely and sweet. I enjoyed playing melodies on it because it has a nice tone – and I love that it has such a history. I can't believe it's made from a cigar box! Luckily it doesn't smell of cigars."
The violin is being auctioned by Ingles & Hayday on 25th October. Also on sale is an "immaculately preserved" 1789 violin made in Naples by Ferdinando Gagliano expected to fetch £65,000-£85,000.
A real historical document and a rare treasure
The violin doesn't have any strings and looks to be in pretty poor condition – but actually, it's almost untouched since the 18th century and is therefore a vital historical document for musicians, musicologists and violin makers.
"The Gagliano family was one of the most important violin making families of the time and this has come to us almost perfectly preserved – it's been in the same family for almost 200 years, which is astonishing," said Tim Ingles, director of Ingles & Hayday. "It still has 90% of its original varnish, it's not been polished or retouched at all.
"The fingerboard is original, the saddle at the bottom of the violin is still original, it's a real historical document. It's an insight into what the violin would have looked like in the 18th century when it was originally made.
"We have an original label inside so this really is a rare insight into working techniques of this particular family and also a very rare treasure, to find something in practically perfect condition which is 230 years old."
The most valuable violin to be auctioned
The violin expected to fetch the most at the auction on 25th October, however, is one made in 1788 in Mantua by Tomasso Balestrieri. It is expected to fetch £180,000-£250,000.
Kerenza Peacock gave it a test drive…