Immaculately Preserved Gaetano Guadagnini II Violin
Gaetano Guadagnini (II), the eldest son of Carlo Guadagnini and a grandson of Giovanni Battista Guadagnini, was born in Turin on 30 November 1796. His father and his uncle Gaetano were partners in a firm known as the Fratelli Guadagnini, which had been operating ever since their father's death in 1786. By this time, their primary trade had shifted over to the making of guitars and mandolins, as was the case in many other cities, and even this trade was weak during the years of the Napoleonic Wars, during which Turin was invaded and occupied, and eventually absorbed into France as a Department. Cozio even noted, in 1816, that the brothers were still working, but evidently were not meeting great success. Several months later, on 20 November, just days before his 20th birthday, Carlo died, and the following February, so did his uncle Gaetano (I), leaving the young man in charge of the family workshop, which he owned in partnership with his stepmother. He gradually rebuilt the business, through wise promotion and astute contacts, and it was flourishing by the time of his death on 2 March 1852.
While guitars and mandolins might have been the stock-in-trade, there was still an occasional market for violins, as witnessed by a handful of violins made by Carlo and Gaetano II. The earliest violins from Gaetano II were made following methods that followed family traditions, although also incorporating small touches from the guitar-making craft. However, there had been some significant changes in what was considered standard in a violin by the 1820s.
During the French era, French craftsmen moved to town to supply the needs of the fledgling Conservatory of Turin. Among these was Nicolas Lété-Pillement, a merchant-dealer from Mirecourt, who imported instruments and makers in his employ. After the French departure, one of his employees, Giovanni Francesco Pressenda, was able to capture the market, and remained for the next few decades as the leader of the craft. Pressenda's training was French, and since he dominated the trade, his style set the standard for the coming years.
Gaetano was well aware of both the differences in constructional style and visual appearance, and understandably adapted them to his own purposes. In this he might have received a few pointers from an unlikely source: the King's Surgeon-Dentist, Alexandre D'Espine, who was a neighbour but who also had picked up the methods of violin making while a student in Paris. Indeed, Cozio noted in his diaries one "M. L. Epine", who was having his violins varnished for him by "the young Guadagnini".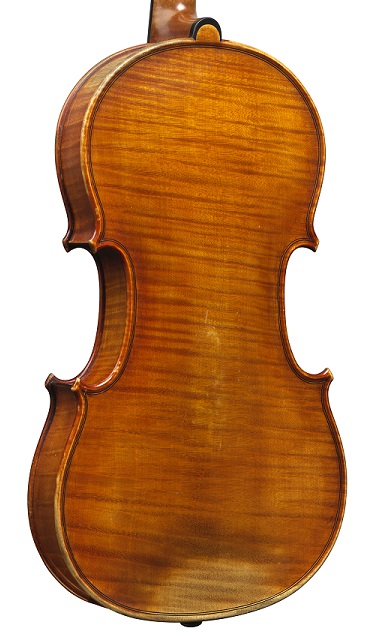 Gaetano's work maintains his own personality, as is evidenced by this violin of 1836, which remains in an outstanding state of preservation.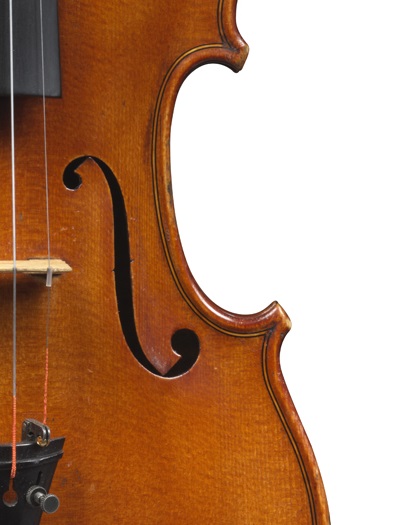 Nonetheless, Gaetano's work maintains his own personality, as is evidenced by this violin of 1836, which remains in an outstanding state of preservation. The use of the external form, indeed a form quite similar to the one Pressenda would have used, shows French influence, as do the full edges and large-proportioned scroll, but in finish and details it reveals its own personality. The margins are neatly finished, and the broad wings of the f-holes are gently fluted. The scroll edges and corner joints are picked out in black, as they always were on Pressenda's instruments. Gaetano's guitars were always varnished with a beautiful orange varnish, artfully applied, and this is also true of this violin.
Shortly after completion the violin was owned by the Victorian entrepreneur Arthur Hyde Dendy.  Dendy was an influential figure in the town of Paignton in Devon, where he built the pier and owned a number of hotels and a theatre.  It is likely that the violin was played at the world premiere of Gilbert and Sullivan's The Pirates of Penzance, which was held at Dendy's Royal Bijou Theatre in Paignton.  More recently, the violin has been owned by the same family for several generations, and has been preserved in practically mint condition, still bearing its original label Cajetanus Guadagnini fecit Taurini Anno Domini 1836 GGT.

Scroll of the Gaetano Guadagnini II violin

Label of the Gaetano Guadagnini II violin