The Evangelists Quartet by J.B. Vuillaume

An unparalleled quartet of instruments made by Jean Baptiste Vuillaume in Paris in 1863 was sold in our March 2016 auction for a world record £960,000.
The Apostles
Between 1863 and 1872 Vuillaume made a number of instruments dedicated to saints. The catalogue of the 1998 Vuillaume exhibition in Paris notes that the great French maker produced around a dozen instruments bearing saints' names, of which nine are known to us.  These instruments are known as The Apostles.
The first four Apostles date from 1863, when Vuillaume made the quartet known as The Evangelists. In the same year, Vuillaume made the St. Joseph violin, and in 1864 St. Peter and St. Paul followed, both of which bear the name of the saint inscribed below the bridge, as do the Evangelists. St. Peter is today held in the Russian State Collection in Moscow. In 1870 Vuillaume made another violin which he christened St. Paul, presumably at the request of his client, a Monsieur Goguel. This violin was exhibited at Sotheby's Vuillaume Exhibition in 2012 and sold in their October 2012 auction. Probably the last of the Apostles is the St. Nicolas, which dates from 1872.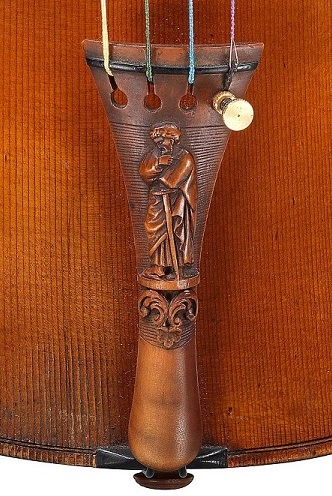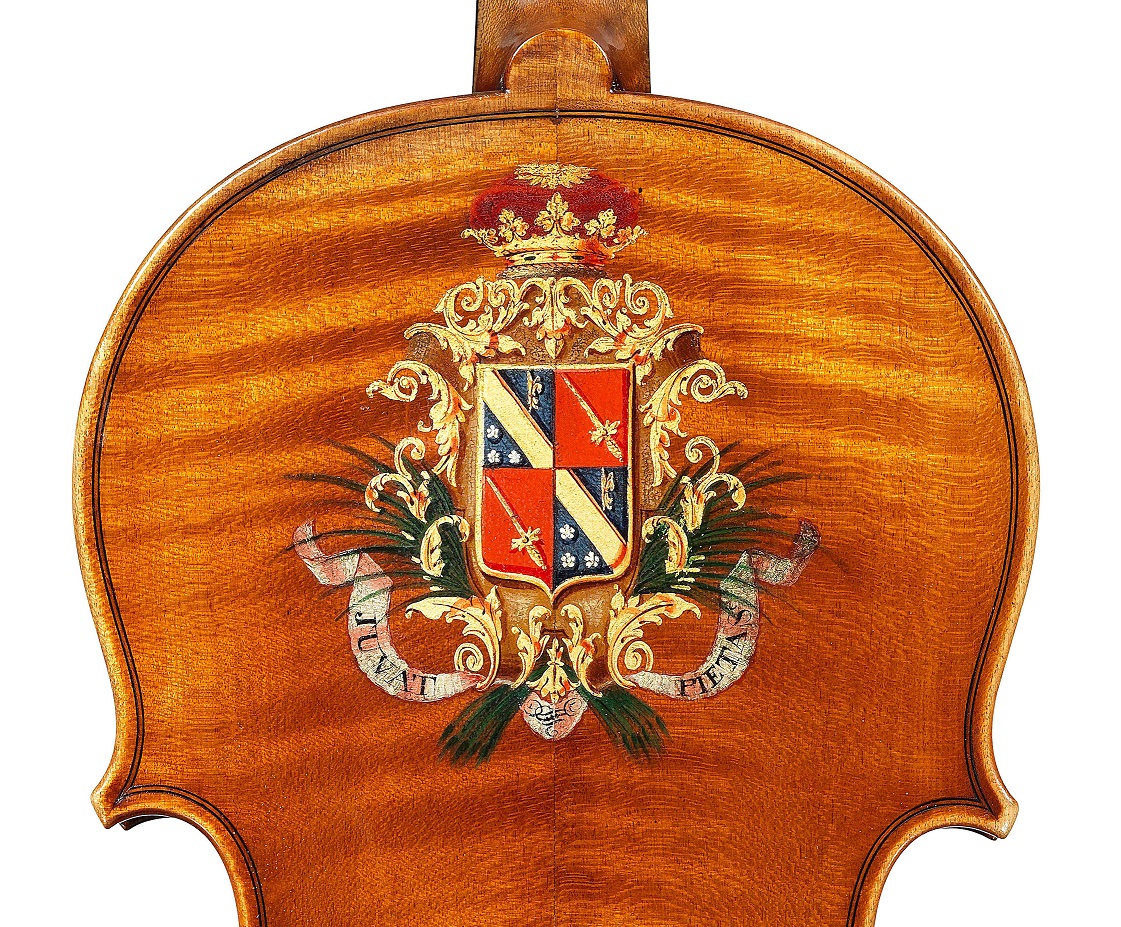 Vuillaume's Quartets
There are four known quartets by J.B. Vuillaume. The first was made for Count Doria, the violins dating from 1848 and the viola and cello from 1863. The other two quartets date from 1865 and were made for Count Sheremetev and Prince Caraman de Chimay.
Whereas the two decorated quartets of 1865 are both numbered in 'reverse' order, with the cello first and the first violin last, the Evangelists are numbered as one would expect, with the first violin numbered 2501 and the cello 2504. They are named St. Jean, St. Marc, St. Mathieu and St. Luc, which is plainly in contrast to the traditional ordering of the gospels, and to the order in which they were written (generally considered to be Mark, Matthew, Luke, John). Quite why Vuillaume ordered the Evangelists in this way remains a mystery, but it is not surprising that he chose to name the first violin after St. John, who is considered by many to be the most important of the Evangelists.
The Evangelists
The Evangelists quartet was made from matching mood and, uniquely, it is the only one of Vuillaume's four celebrated quartets which is still together as a set today. It was held in private European collections from around 1970 until 2016, where the instruments were immaculately preserved and, until recently, played only occasionally. Before the 2016 auction the quartet was owned by a European Foundation and was loaned to the Modigliani and Finzi quartets.
All the instruments, which are modelled after Stradivari, are inscribed with the name of the saint below the bridge, and Vuillaume carved individual tailpieces for each instrument, depicting the saint after which they were named.
'Each instrument is amazingly bright and responsive. Played together, they combine to produce a radiant tone of outstanding purity' – The Ruisi Quartet